During a complete eye exam, your eye doctor will not only determine your prescription for eyeglasses or contact lenses but will also check your eyes for common eye diseases. Eyes are an indicator of your overall health.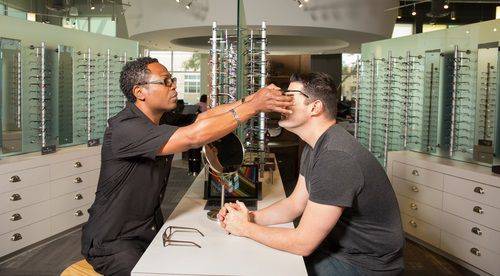 We have a fully trained team of opticians dedicated to assisting you in making tough eyewear decisions. With options available for your eyeglasses, making the right choices for your vision needs can be daunting.
Over 500 reviews on Google! 5-Star
I always enjoy my yearly visits with Dr. Kodokula, and I loved meeting her intern Dr. G. They are both so friendly and knowledgeable. However, I want to give a special shout out this time to Taphawa, the tech who did my initial exams and work up. He was super friendly, fun and professional and I enjoyed getting to meet him! We're happy to have you here in Austin and thank you for your service in the Marines!
- Sandy M.
We Are Eye Doctors, First & Foremost
Our optometric team provides expert eye care services to North Austin and Cedar Park, TX ranging from annual eye exams to detecting and treating rare eye conditions.
State of the Art Eye Care in Cedar Park, TX
Getting the right prescription for your eyeglasses or contact lenses is also an important part of good eye care. But seeing clearly is just one part of your overall eye health. It's important to have regular eye exams with a Lakeline Vision Source optometrist whether or not you wear eyeglasses or contacts.
AdaptDx®
The AdaptDx® is the first instrument to provide a practical and objective measurement of dark adaptation function, which is severely impaired in age-related macular degeneration (AMD), retinitis pigmentosa (RP) and other forms of macular degeneration.
Lakeline Vision Source is the
first
practice in Texas to get the AdaptDx® and only about 1% of Optometrists in country have one! Dr. Sorrenson is one of the first adopters and testers of this brand new technology. Maculogix does research here and even
filmed their commercial
at our site!
OCULUS Keratograph 5M
OCULUS Keratograph 5M is a corneal topographer that is useful for the detection & evaluation of Dry Eye symptoms. With its built-in real keratometer and color camera, the Keratograph 5M produces incredible images of your eye.
Monaco Optos & OCT
Monaco is an exciting new way to enhance your clinical exam. The only ultra-widefield retinal imaging device with integrated OCT, Monaco produces a 200° single-capture optomap image in less than ½ second and also provides cross-sectional 40° OCT views of retinal structures.
Industry Leading Technology In Cedar Park
Jul 19, 2021
If you wake up in the morning with itchy, burning eyes, you may have dry eye syndrome. Wonder how this happens when your eyes are closed all night? Read on...
Jul 16, 2021
Shopping for a new pair of frames isn't easy. We can help you choose frames that not only feel good but are most suited to your facial features.
Jul 08, 2021
Given the rapid increase in childhood myopia being seen in the U.S., the American Academy of Ophthalmology and American Academy of Pediatrics recently updated their guidance on managing myopia in...
3419 El Salido Pkwy Ste 100
Cedar Park, TX 78613
Hours
Monday:

9:00 AM - 6:00 PM

Tuesday:

9:00 AM - 6:00 PM

Wednesday: 9:00 AM - 12:30 PM
1:30 PM - 6:00 PM
Thursday:

9:00 AM - 6:00 PM

Friday:

9:00 AM - 5:00 PM

Saturday:

9:00 AM - 5:00 PM

Sunday:

Closed